Kirkjuból  is an old farmhouse, and the name Kirkjuból is also the name of the farm, so of course we could not change the name in to something else. Kirkjuból is the house and "í Bjarnardal" means that the house is located in a valley named "Bjarnardalur".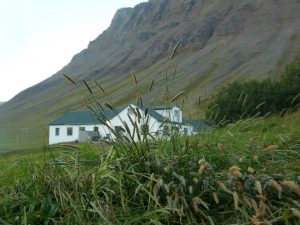 We call our farm both names so that it can be recognized from the other farms in Iceland which have the name Kirkjuból (quite many actually). This can sometimes be confusing because there are at least 3 Kirkjuból farmhouses in Önundarfjordur, so don't get lost on the way if you are looking for us 🙂
For 17 years we were operating a guesthouse (b&b service) in Kirkjuból and we have so many good memories from sharing our farm with guests from all over the world.
From the Kirkjuból family and staff we want to thank you all for visiting and we hope that you are busy planning future visits to Iceland.
From 2021 and on, the house will only be rented out for groups and family gatherings – self catering. 
Please contact us for further information: info@kirkjubol.is