We bought the Kirkjuból farm in 2004 and renovated it as a guesthouse/b&b to welcome guests to our beautiful valley. In 2016 we made some additional changes and started to make our own electricity on site, with Kirkjubóls micro hydro power station.
Kirkjuból now has 6 guest rooms on the 1st floor and 5 bathrooms. In the 2nd floor we have 2 guestrooms and a 6 bed dormitory.
Kirkjuból is ideally located  for short trips around the area, including beautiful sights as the waterfall Dynjandi in 30 min. driving distance, the magical beaches in Önundarfjordur, almost on our doorstep and the old Bookstore in Flateyri, the oldest original store in Iceland, in just 10 min. drive.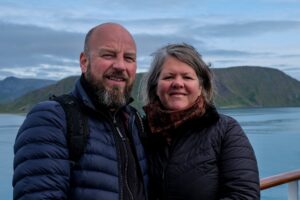 If you are planning to stay for some days with your family or group of friends, we might be the right choice for you. Please contact us: info@kirkjubol.is for some additional informations.
We hope you will have a wonderful stay in the Westfjords, enjoying the nature and local culture.
On behalf of the Kirkjuból family,
Gummi and Frida.